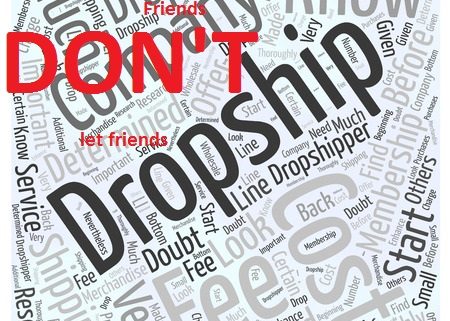 Don't Drop Ship on Amazon.com
Here's the caveat:  there are *some* sellers who can get away with it.
They are in the minority.  When is the last time you saw a narwhal in the wild?
If you have seen one in your lifetime, you may be able to get away with dropshipping without damaging your account.
MOST sellers simply can't make it work the way it needs to.
Is dropshipping lucrative?  It absolutely can be.  Can it be a great way to get started without having to tie up a ton of capital?  Without a doubt.  From an account health perspective and for the sake of the sustainability of your Amazon account, I'm telling you to skip dropshipping.  If you want to use that strategy on about every other ecommerce platform, including your own sites, that's fine.
Keep in mind, if you drop ship and you get suspended and you come to me for help, I charge $2,500 to get your account reinstated.  It is CLEARLY not in my best interest as a service provider to tell you not to do something that would almost certainly result in more business for me.  But, I'd rather help you with strategies to grow your account than have to bail you out because you weren't aware of how tenuous these practices are.
Here is a link to a screenshot of evidence of the beginning of some very serious issues with an actual client's account:
http://ecomaxiom.com/dropdropshipping
My advice to deal with this situation was to put the store on vacation immediately until the issues can be resolved.  They simply could not afford to make any more sales and risk further issues.  With dropshipping, your account is not well protected because you aren't FBA and because you aren't using Amazon's negotiated shipping with automatic tracking uploads.  You can't afford to cancel orders when the dropshipper is out of stock.  You are likely selling products you have never seen and tested or compared to the product detail page for exact match.  You have to rely on the systems of another business to be bulletproof for uploading of tracking and for timely shipping, even during busy times like Q4.  The data feeds you are provided by dropshippers are often fraught with issues.  It just isn't worth the risk to your Amazon account.
Everyone knows Amazon's catalog, while good, is still a big mess and matching by UPC only is not adequate.  Pictures, colors, sizes, and products can change even though UPC's match.  You open yourself to Item Not as Described claims and Counterfeit claims which lead right to suspension.  Your invoices won't be good enough to show that you had authorization from the manufacturer or brand owner.  I could go on, but you get the picture.
If you need help transitioning to another model, feel free to reach out and schedule a consultation.  http://ecomaxiom.com/cal
https://feedbackrepair.com/wp-content/uploads/2017/02/friends-dont-let-friends-dropship-on-Amazon.jpg
450
450
feedbackmaster
https://feedbackrepair.com/wp-content/uploads/2017/03/feedback-repair-logo-300x48.png
feedbackmaster
2017-02-03 12:46:47
2017-02-04 10:48:56
Don't Drop Ship on Amazon.com